It is free to JOIN!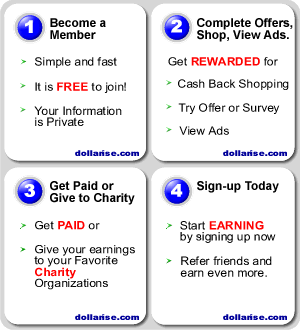 Join today and you will
save money with hundred of discounts, promotional codes and offers
and earn
cash back rewards
when you
Shop Online at any of our Online Retailers. You may also earn rewards when Completing Offers, Surveys or Viewing Advertisement.
It is
FREE
to join! If you are referred by an organization or school, whenever you use Dollarise.com and earn rewards from your online purchases, complete offers or view ads, the organization or school will receive a revenue sharing from Dollarise when ever your account is credited. (at no cost to you). Therefore, while you save and earn from Dollarise, you are also helping to raise fund for your organization or school. If you would like to read more about donating your earning, please
click here
How Do You Save Money and Earn Cash Back when you shop online?
Dollarise has partnered with hundreds of online retailers
click here to view our online retailers
. Our site offers hundreds of promotional links from online retailers that offers free shipping, discount, special sales, and free gift/item to help you save money when you make online purchase using these links. As a member, you can earn cash back when you make a
Qualifying Purchase
at our online retailers found in Dollarise. To earn cash back from your online purchase, you must first login to your account and click Shopping (in Member Panel) and you will reach the Dollarise's shopping page with a list of categories and stores. Just click on any of the stores' link and you will automatically be brought to our retailer's homepage. If you haven't login, you will reach a page that ask you to register, login or skip the page and take you directly to the retailer's homepage. To ensure that your purchase is tracked properly, it is important for you to purchase your item immediately after you have clicked the link from Dollarise to visit our online retailer. Once you have made a
Qualifying Purchase
at our retailer, we will receive a report from our retailer that you have made a purchase. Since we haven't received any payment yet, your reward will appear pending in your "History" page. Our retailers provide a grace period to shoppers for any possible return. Therefore, between 30 to 50 days, once the purchase grace period is over and final, the retailers will release the payment to Dollarise and Dollarise will credit the amount of your reward into your account balance where the Pending status will changed to Completed. Please note that the cash back rewards is not provided by the retailer. It is provided by Dollarise as a revenue sharing with members, organizations and schools.
How Do You Make Money with MyOwnStore?
As a member, you will have the opportunity to have your own shop page that list hundreds of Dollarise's online retailers with your username on it. Just invite your friends and families to visit your shop page using your personal shop page link and you will earn commission for every
Qualifying Purchase
made by them whether they are your visitors or new members that signed up under you.
How Do You Make Money from Completing Offers?
When you login to your Member panel and click Offers, a list of offers from our merchants will be displayed. Completing offers are only available to some countries. If you donít see anything in this page, it means that there is no offer available to you in your country that you have registered. In the offers section, you will also be provided with the information on how much you will earn for successfully trying out the offers. Once you have completed the offers from our website, your account will be credited after we have received the payment from our merchants that provide those offers. These offers can only be tried once. Therefore, if you have tried out these offers in the past, the merchant may not pay us when you try it again, and therefore, you will not be paid for trying a second time. Do make sure you are no longer an existing customer for a long period of time and have clear all your cookies from your browsers before you complete these offers. It usually takes between 30 to 60 days to add the earnings into your account balance. Please note that the offer rewards is not provided by the retailer. It is provided by Dollarise as a revenue sharing with members, organizations and schools.
How Do You Make Money from viewing Advertisement?
When you login to your Member panel and click View Ads, a list of advertisements will be displayed. Simply click the link to visit the websites for a period of seconds/visit from our View Ads section (View one Ad at a time) and your account will be credited immediately.
Earn from referrals thru our referral program!
This program allows you to earn money from the visitors that you have referred to sign up with Dollarise.com. You will earn money when the visitors/members that you have referred made a
Qualifying Purchase
, completed online Offers or view advertisement at our View Ads section. You will earn life time commission on every advertiser that you have referred to Dollarise who purchases View Ad Advertisement Package. The best part is that you can have an unlimited amount of referrals! View detailed statistics of all your referrals in the Referral Center page of your Member Account. There has never been an easier way to rack up serious cash with such an easy program! We have hundreds of members and several who have cash out every single month because of their referrals. There is no limit to how much you can earn and you can start earning in just 2 minutes! Login and get your referring link to invite friends and families to join Dollarise today!
Get Paid for every Advertiser you bring in!
If you help us to get advertisers, you'll be given 10% commission on every viewed click advertisement they purchased. That means that if you refer an advertiser who purchased advertisement package worth $1000, you'll have $100 added to your balance after all the purchased clicks have been used up! All you have to do is to give your advertising referral link to someone who might be interested in using our services.
On Time Payments
We have not been late with a single account yet! You have the choice to get payment by regular check or by
AlertPay
or
PayPal
after your received your first payment by regular check. You only have to earn $10.00 within any month to get paid. If you don't meet the minimum for payouts, your earnings are rolled over to next month. We may announce the change of payment option at any time. To get paid, you will need to login to your account and request for a payment to be processed.
If you choose to be paid electronically via
AlertPay
or
PayPal
, your payment will be issued within 3-7 business days after your submitted your request. You must have at least $10 of approved balance to receive payment. If you do not have
AlertPay
, please
click here
to open a free
AlertPay
account. If you do not have
PayPal
, please
click here
to open a free
PayPal
account.
If you choose to be paid by mail, payment will be issued via Regular Check. Once requested, your payment will be issued by the 15th of the next month. You must earn at least $14 of approved balance to receive payment. There will be a surcharge of $4 which will reduce your earnings that is to be paid by mail. Minimum payout after surcharge or donation is $10.
We've just started and our advertiser base is growing rapidly. Over the next coming months you will see an increase in more online retailers with more promotion codes to save you money. Your earning can put some extra gas money in your pocket!
So what more could you possibly be waiting for? Start getting paid today for what you have been doing every day since you started using your computer! No other website in the world offers such an awesome opportunity! Take the time to
learn more
about our program or just
join now
!
I want to donate my earnings but I donít see my favorite School, Charity or Non Profit Group.
You may suggest to us your charity or non profit group. However, these groups must be 501(c)(3) organizations that are already recognized and exempted from US federal income tax. If your organizations are not registered in US, please choose the organization in the US that best support your organizations in your country. Make sure you have the organization contact number, address, their website(if any) and the proof of 501(c)(3) statue (if you know) ready. To add your group, email us the organization details and the point of contact. Make sure you tell them about Dollarise.com so we can speed things up.